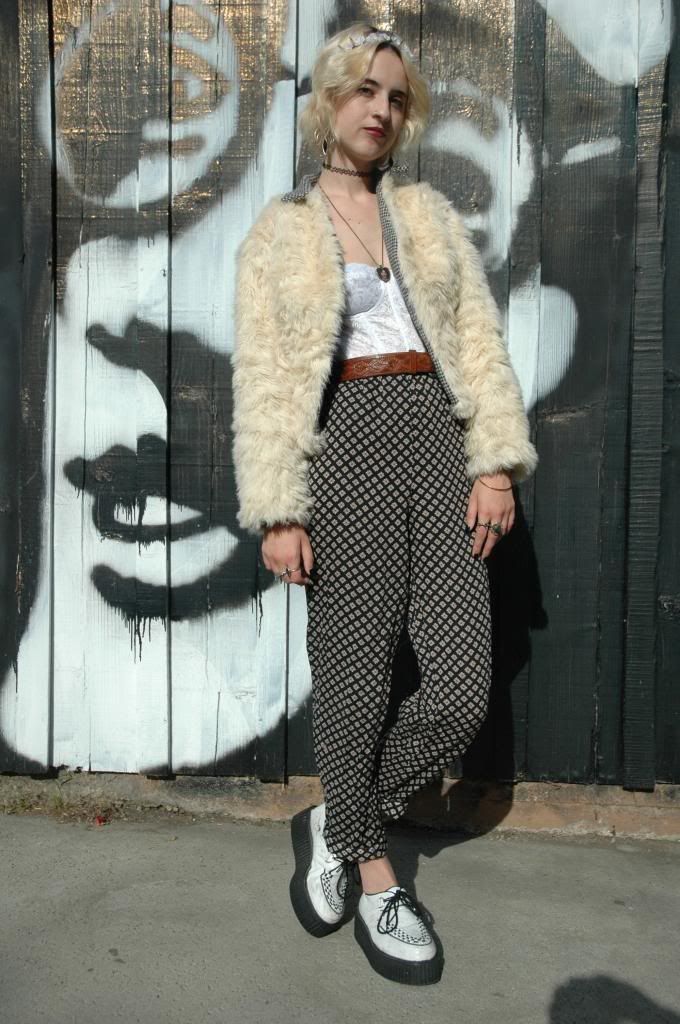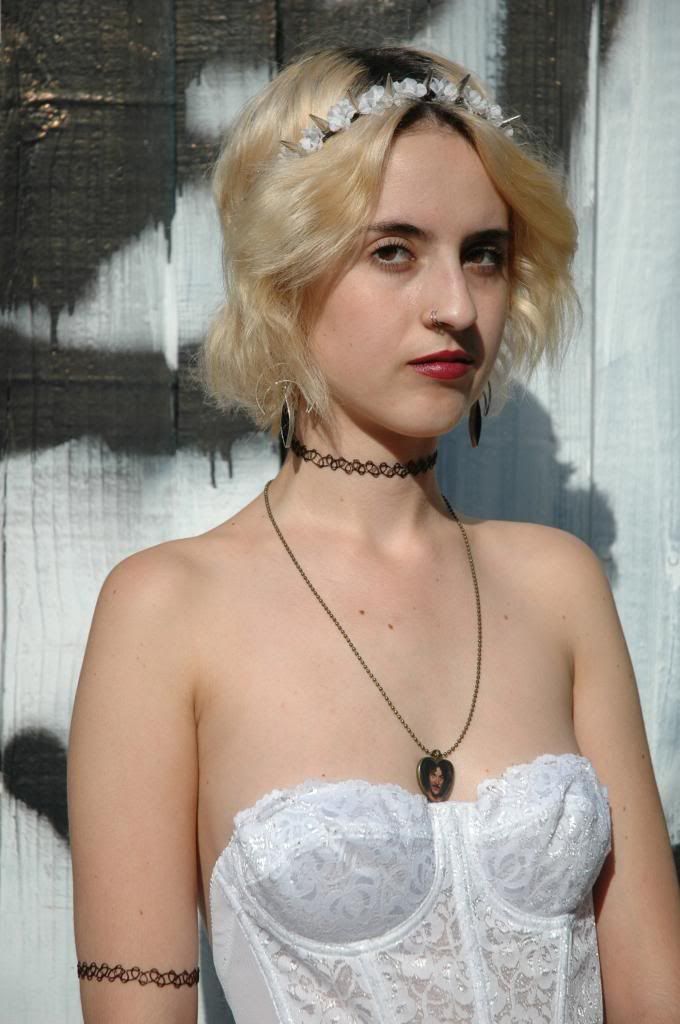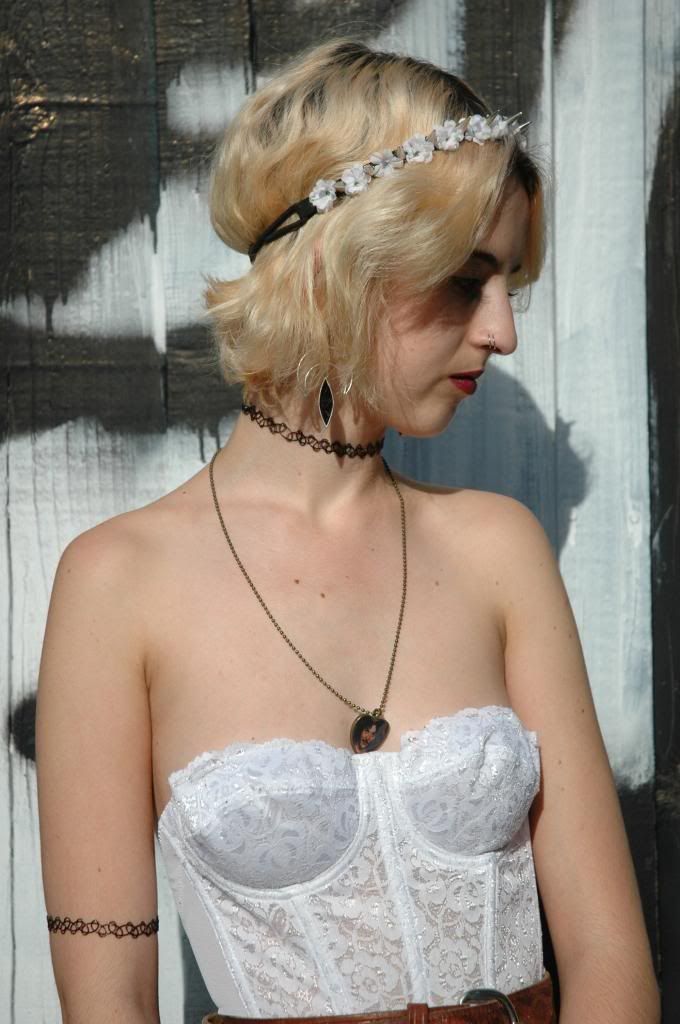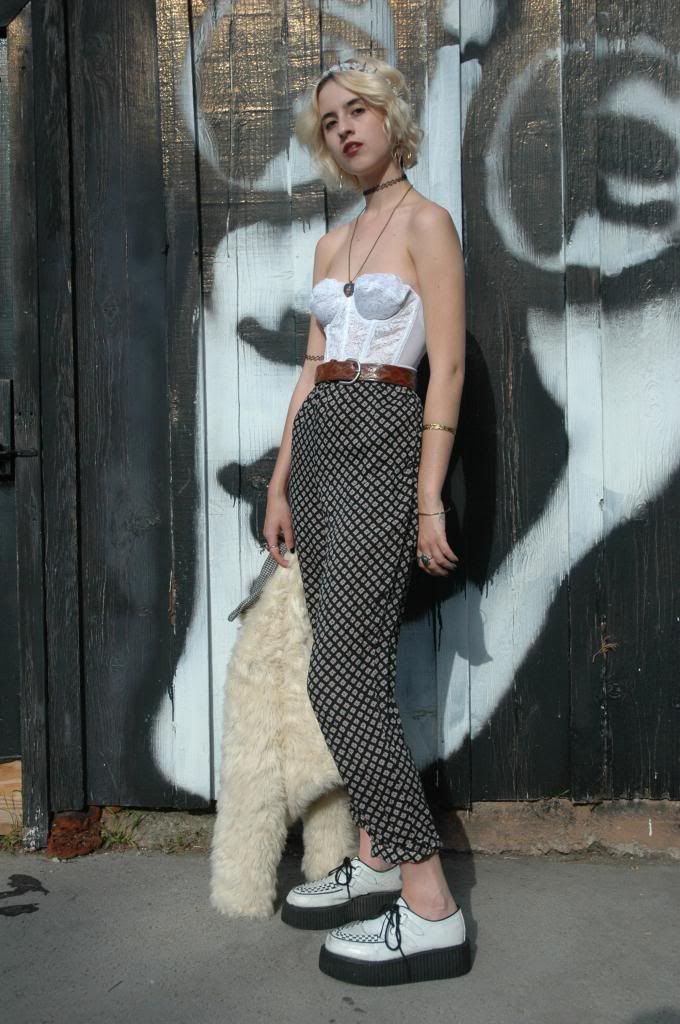 $up,
Today I am sporting a Nastygal white lace busties. I was lucky enough to get this gem on sale last december. I like it a lot, but I think it fits me kind of weird, I got it a cup size smaller and it still seems to be to big. LAME. I used fashion tape though, so there won't be any nip slips. The pants I am wearing were given to me by a dear friend of mine, before she moved to Thailand. They are kind of big for me, so I always safty pin them in the back, and cover it up with a belt. I do that a lot because sometimes I am just to lazy to take things in. I actually haven't sewn anything in a while. It's a weird feeling, but I just haven't really had the drive to do it. The shoes I am wearing, I am obsessed with. Apparently these aren't "real" creepers because they are T.U.K. creepers, but I still love them. Now incase you didn't get the attitude from that last sentence, I'll tell you the story about how I know these aren't "real". I went to London in September of last year, because I was going to move up there. While I was there I went to Camden Town, and I really wanted to get 20 eye docs, so this really cool looking guy pointed me in the direction of a cool boot store that sold some Dr Martens. When I walked in I was greeted by an employee and he asked what I was looking for, and I told him. He then was like, "Your shoes aren't real creepers you know." Taken back, I was like "..Yeah they are, they are T.U.K.'s-" He then said "T.U.K. didn't invent creepers, George Cox did, and everyone copies him. Real Creepers have white bottoms, they never break or get beat up because the soles of the shoes are cemented to the shoe. Have you herd on Vivian Westwood?" and I said "yes." "She and George Cox are revolutionary and everyone rips them off, you wouldn't wear fake Dr. Martens, would you?" "no.." "Then why are you wearing fake creepers?" At that point I didn't really know what to say, I was there to study fashion and he made me feel like I had no clue about shoes. I smiled and walked out of there... Way to loose a customer shit head. Even though the man said my shoes are fake and they are going to break or something, I don't care, I like the way they look, and I love the price that I got them for. So fuck you stupid face. The headband I am wearing actually belongs to my friend Lauren, and I just found it today, so I'm guessing she left it at my house. She glued flowers onto a spiked headband that she found on Ebay. She's very crafty.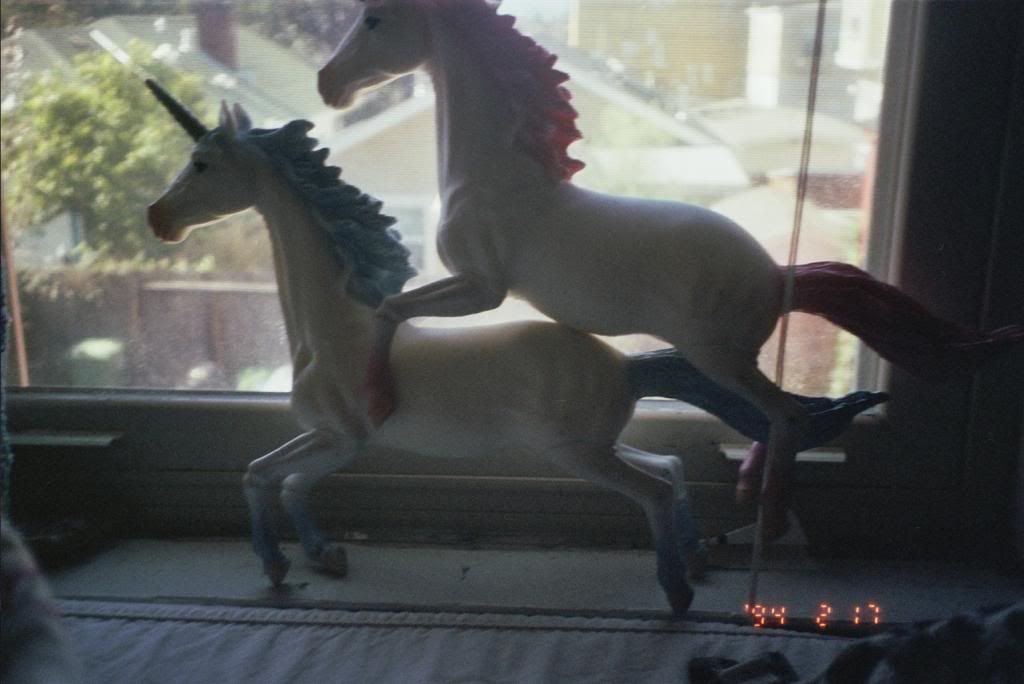 These pictures are from my most recent roll of film, but unfortunately it took me a couple months to have the money to get the film developed so the events that the film has captured are from January/ February. The top picture is my good friend Arjun. I like the way it came out for some reason. The bottom picture is a picture of two Unicorns banging. Yeah... I went to visit one of my best friends Sahara in Oakland in february and she had this in her room... weirdo.
On a musical note: Groundislava, I have a crush on him. He's so cute haha.
TV DREAM ft. Clive Tanaka ◘ ᘐᖇ〇ᕰᘉᗪᓰᔕᒪᗩⅤᗩ from The Great Nordic Sword Fights on Vimeo.