Alright so, as you read in my last post, I was on my way to EDC in vegas. The drive up was boring and long, I drove separately with my brother, because the people we were staying with had a full car, I didn't really mind to much. I kind of really enjoy long drives, because we can stop on the side of the road when we are in the middle of nowhere and take some pretty cool pictures, and we can get candy at truck stops. I am all about candy on road trips (Or really just any time, I'm obsessed with sweets.) When we got to Vegas, we got to drive through the strip, because we stayed in Downtown Vegas at El Cortez Hotel and Casino. The strip is really pretty, but overly crowded, I think its actually fun to go to the strip just to look around and stuff but I knew we wouldn't do much of that this trip. When we got to the hotel we had this sketchy operation because the room was only booked for 4 people and we had 6, so my brother and I had to sneak in every time, it was kind of dumb. The first night we just kicked it at the hotel, and some of the people went exploring. I went to sleep cause I'm lame. The next day we woke up late, got subway and then got ready and went to EDC.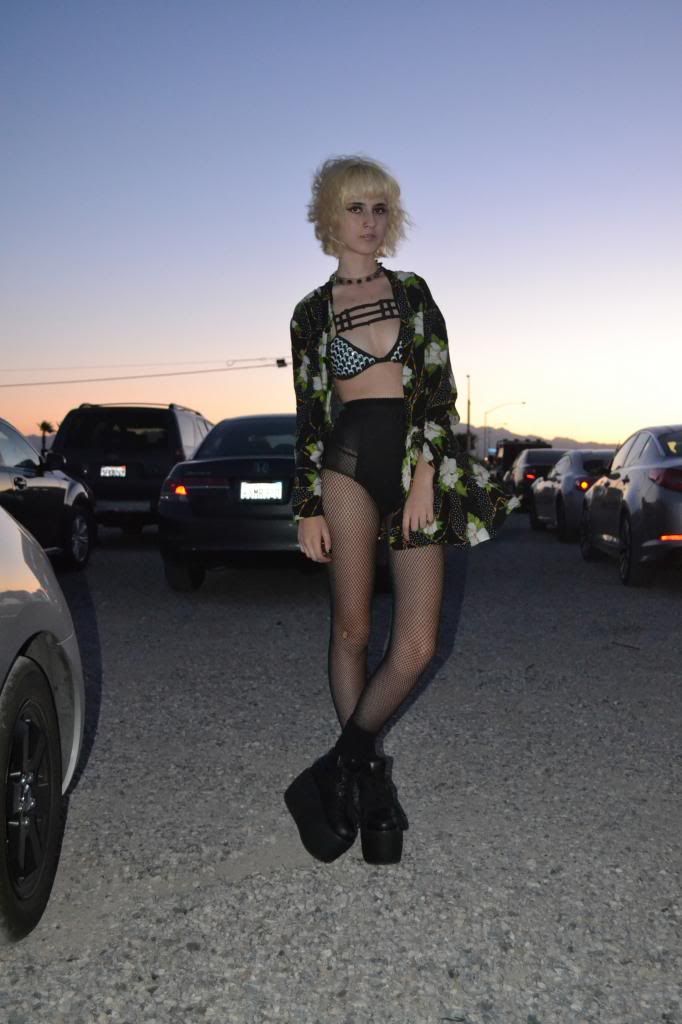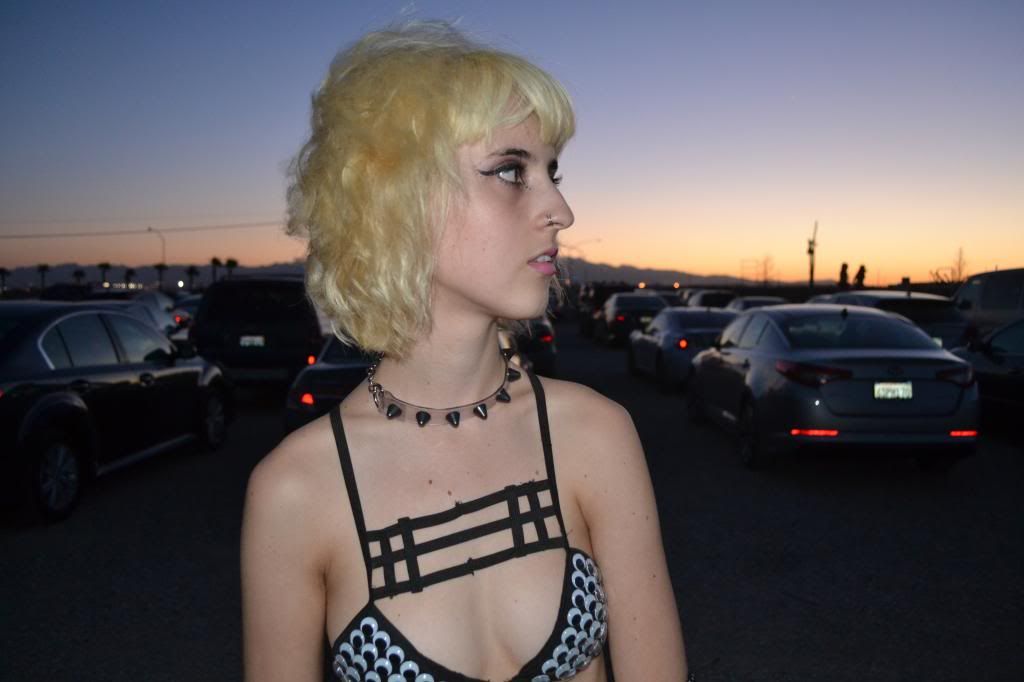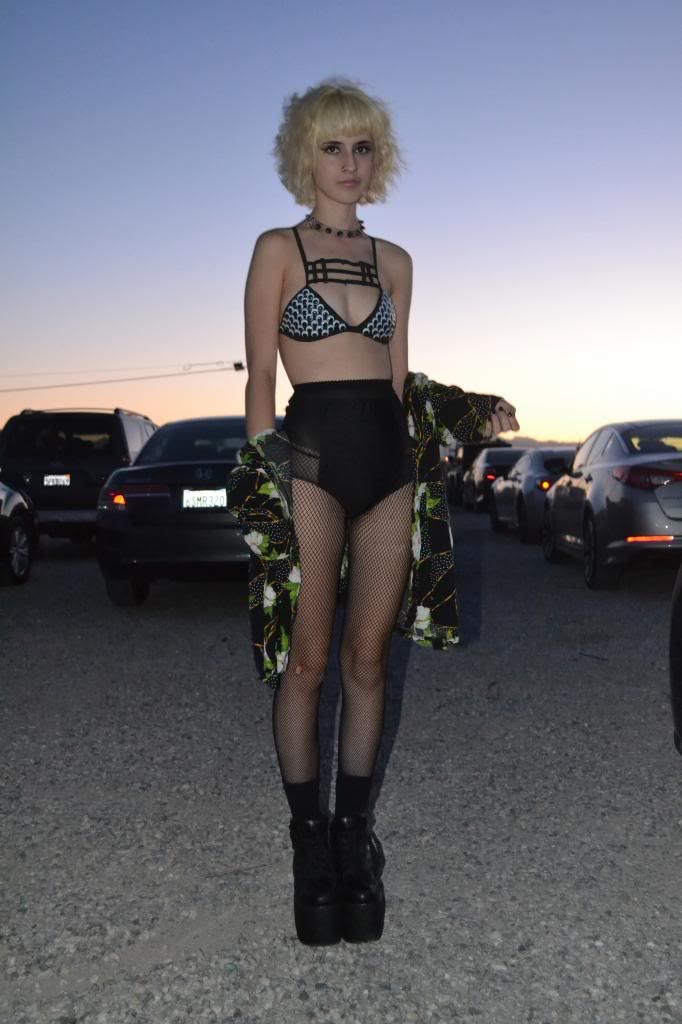 I wore this bra that I made out of felt squares and elastic, and I had glued on googlie eyes. It was inspired by a
One Teaspoon
top that I had seen on all the big name websites. I really loved that top, but it was way to expensive, so I did my own rendition. I also wore my high waisted bathing suit bottoms that I got from
American Apparel
. I had to wear fishnets because I got hives the previous day from material that I was sewing, super wack if you ask me. I also got to wear my
Unif Cross Trainer highs
. The ground was so fucking rocky that I kept falling all the way into the concert so I looked like a drunk bitch. I herd some people making fun of me behind me, and it was super obvious but I really couldn't do anything about it because I definitely looked the part of a drunk girl who can't walk. When we got in there, I was surprised how much it had changed since the last time I went (2011). The stages were moved around and further apart, which was good because I remember last time I went there was horrible sound bleed in certain spots of the festival. We went to several different stages and to me, it was cool, but I just wasn't really into EDM or dubstep anymore, so I wasn't having the best of time.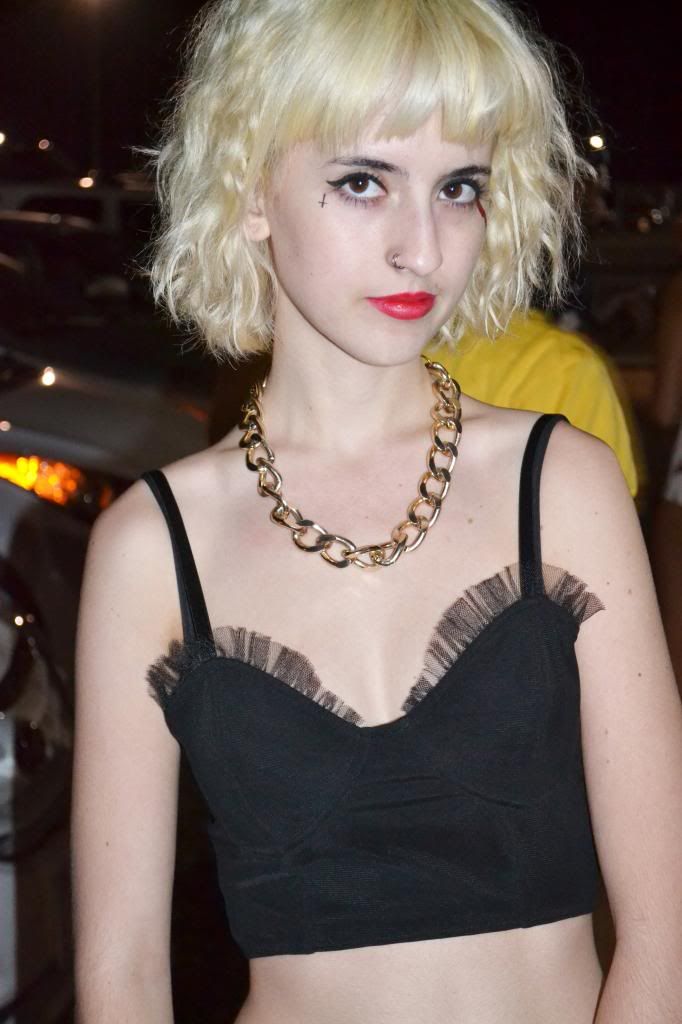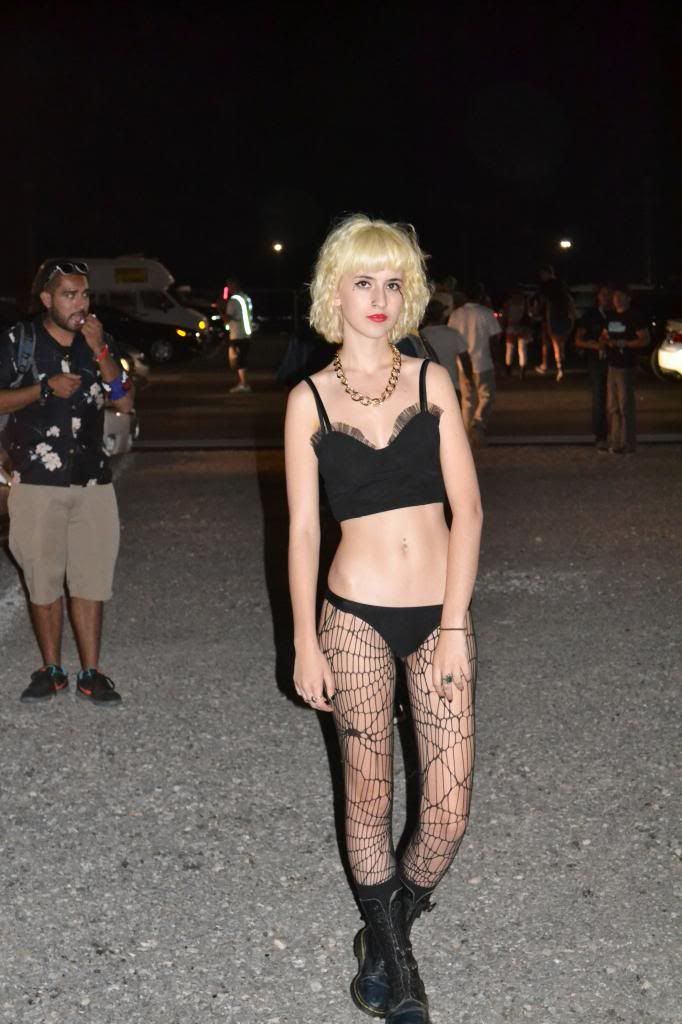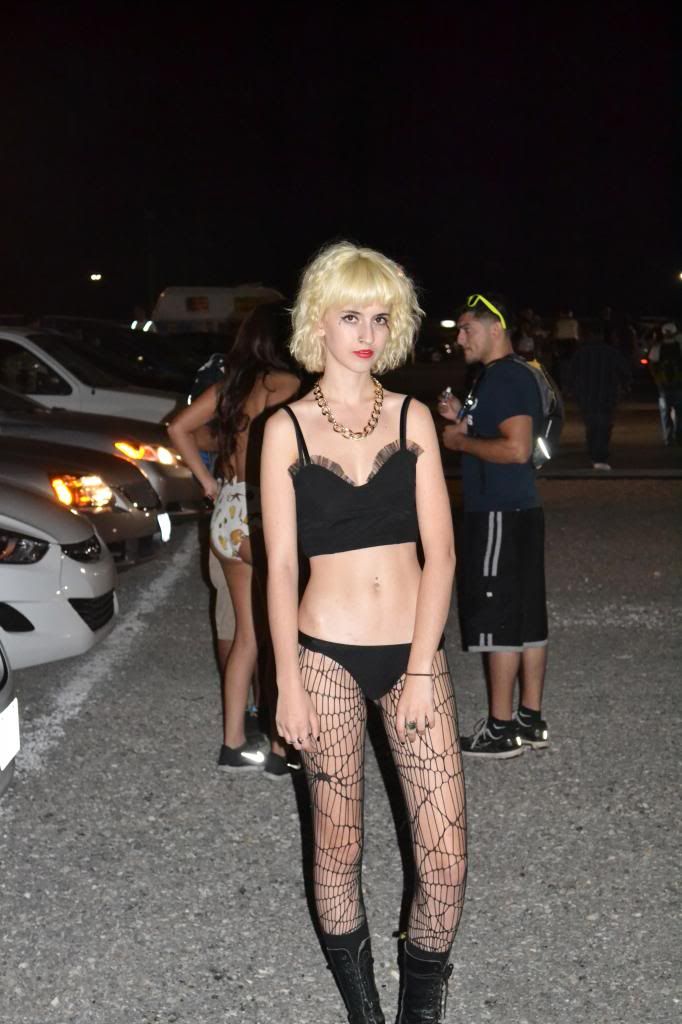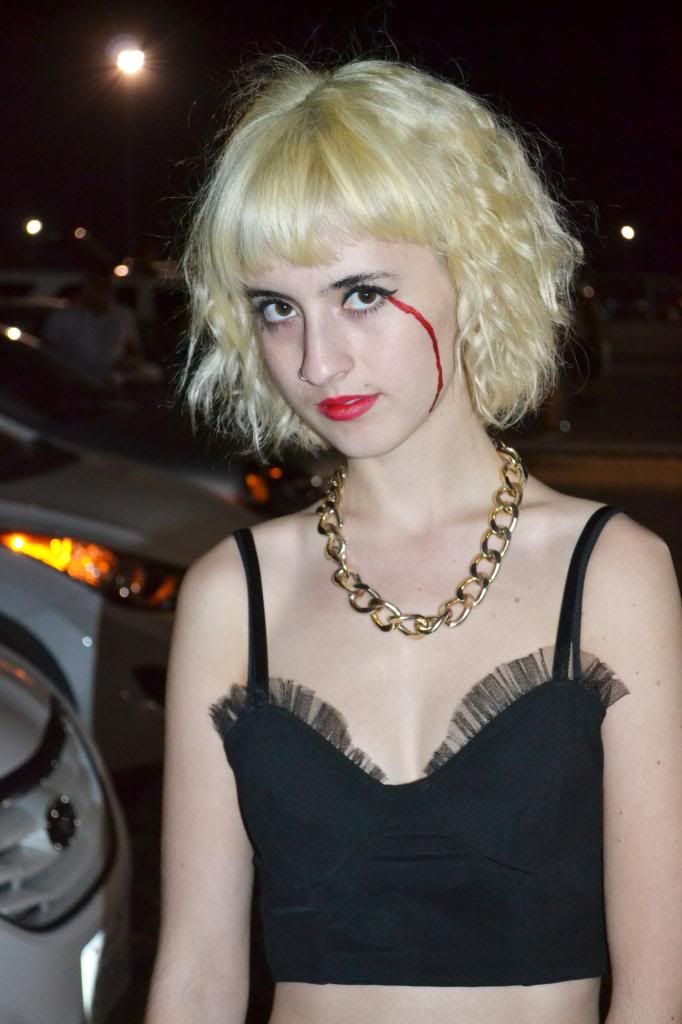 The second day I went later then the first day, with my friends Nick and Kyla. Everyone except for Nick and Zane decided to do a blood thing. My brother and I both had blood dripping from the outside of our eyes and our friend Elliott had it dripping from the inner corner of his eye. Kyla went all out with the blood and had it dripping from her neck and two drips from her stomach. I actually didn't have anything to wear for one of the days, so Kyla let me borrow her tights, boots and her sisters top. I am wearing my own bathing suit bottoms and my own necklace, but thats just about it. That night we mainly stayed at the bass pod stage, we met up with Kyla's sister Rachel and her friends. It was pretty nice to see all of them. I left early that night with my brother and we lost the car and were wondering around looking for it for 2 hours, it was really not fun...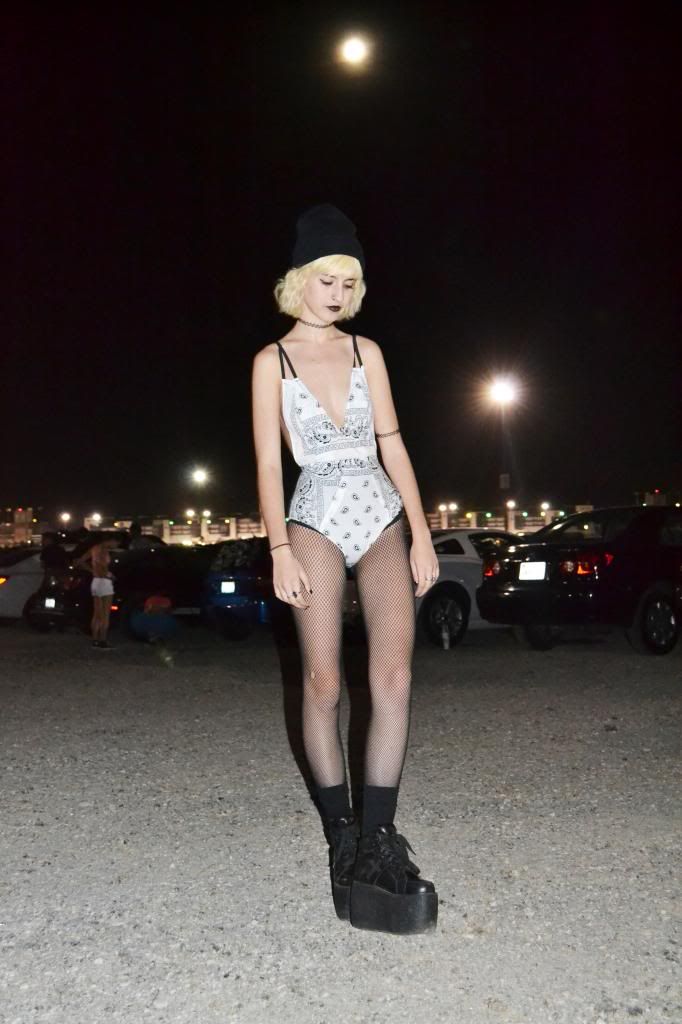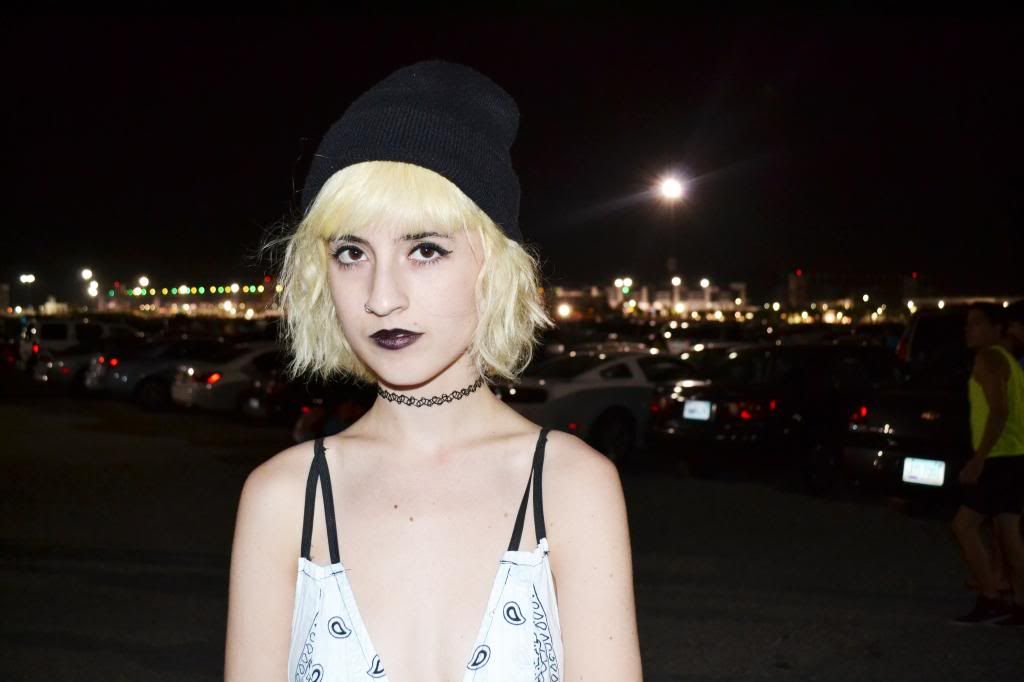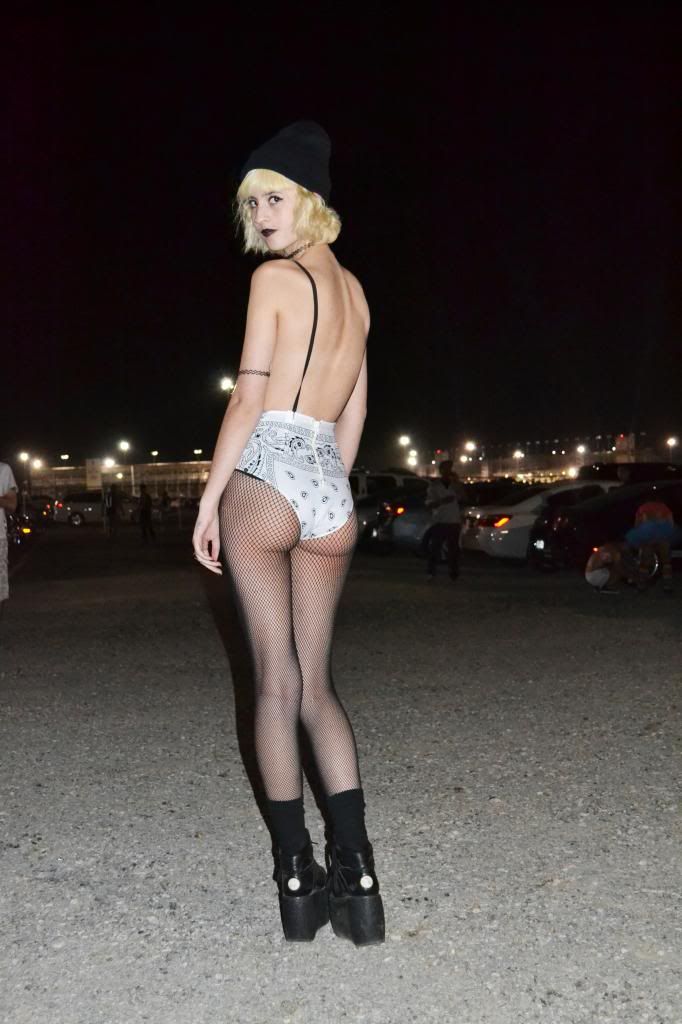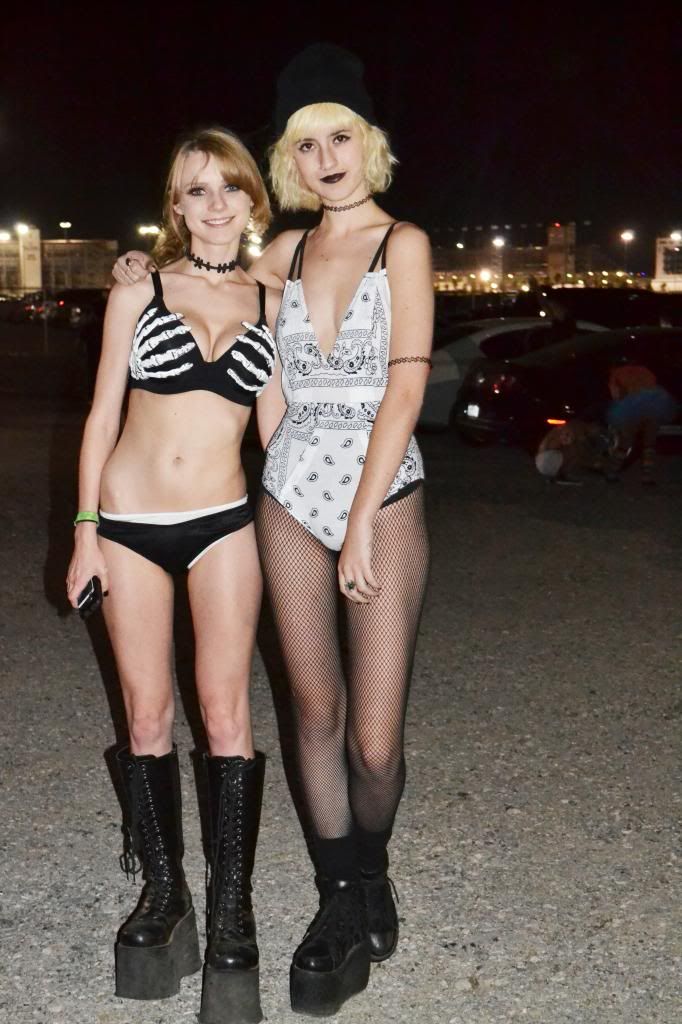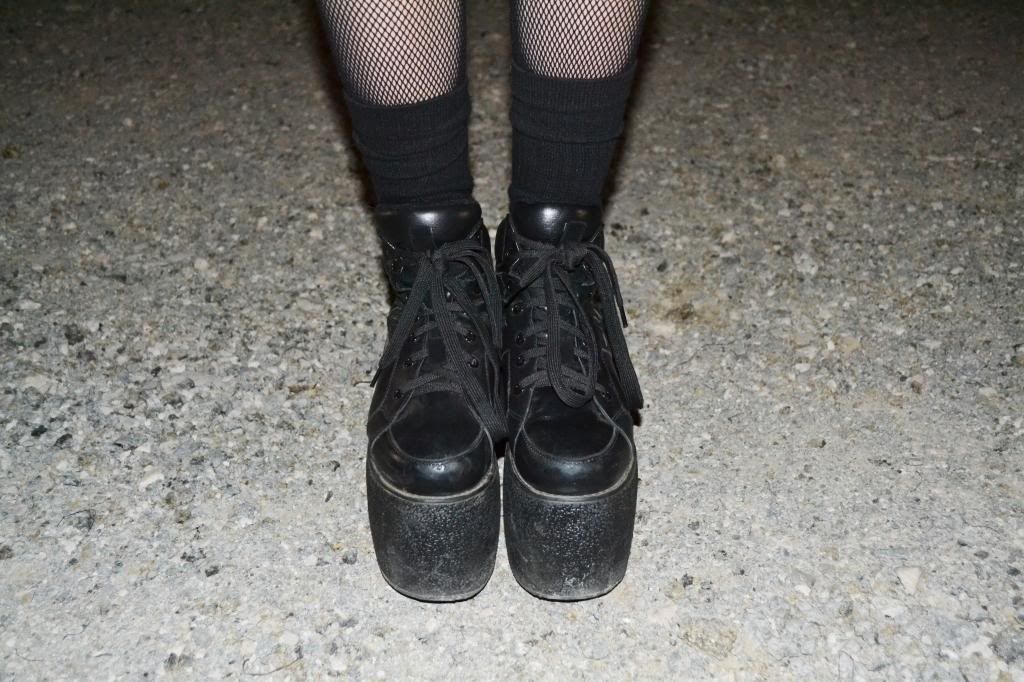 The last day was my favorite outfit. This is the reason why I got hives, because I was working this bandanas and I guess I am allergic to them. Stupid, but whatever I washed it and I think it's fine now. So I made this leotard out of bandanas and it was super small and tight but I loved the way it looked. I wanted to go for a white out look with black lipstick, but I had to wear tights again.. I wore my Unif shoes again, but that day I was a lot better at walking with them. only fell 2 times because of the fucking rocks. I felt like the fishnets kind of made me look like a hooker, but looking at the pictures if I wasn't wearing fishnets, there would be way to much booty. I got to wear my beanie and I was super stoked because it's always a good day when I get to wear my beanie. The last day, I didn't stay to long, because I was super tired and hungry and the only food option they have for vegetarians was really gross pizza. The pizza I actually had to have every night, it was pretty gross. You'd think they would have better food options since the hours are 7pm-5am and it always goes to like 6am.
I couldn't sneak in my camera so I couldn't capture the glory of the horrible outfits people were wearing, but I can just tell you what I think was going through their mind. "Oh I found neon tennis shoes, I will also wear them with highlighter boxer briefs and then I'll paint a mask that says EDC on it, so I can look ravey and original..." Not so original... "Oh I found this day glow lingerie set, Let me put a matching tutu over it.. I'll totes stand out!" Okay no. Just no. I know in all these pictures I really look goth with my lack of colors and all, but I just hate everything day glow. Back when I was super into raving, day glow was not that big.. I mean certain people wore day glow, but it wasn't as annoying. I miss the plur kids that dressed like cute little ravers, with their hello kitty underwear, fuzzy bras, and kandi, loads and loads of it. I appreciate the rave scene I really do, but wow its really annoying now. I feel like before it was people going because they loved the music and they loved rolling and they just loved the good vibes that raves brought. Now there are still people like that, but there are even more people that just go to be there because its EDC, its about wearing as little clothing as you can get away with and doing as many drugs as your body can handle, the music barley fits into it anymore. Having said that there were a lot of outfits that I really did enjoy. I saw so many people going over the top with their outfits, I saw this one guy that only wore a glittery penis thong, this one guy that was actually dressed like a penis, I saw sailor moon, I say this girl dressed as a unicorn, I saw this super punk guy that had really spiky hair, and I saw a bunch of people wearing sparkly jumpsuits. I think the Rave fashion that I enjoy the most is the over the top fashion, the people who are not afraid to be different or crazy or weird. That is the kind of stuff that I really love to see at these events.
Instagram posts from EDC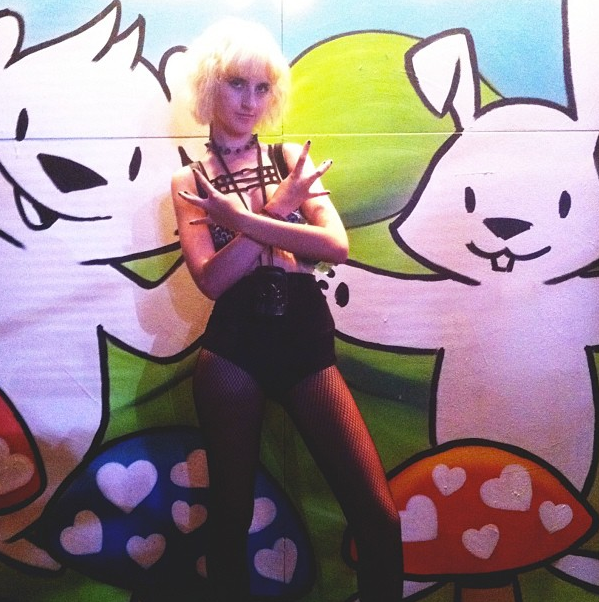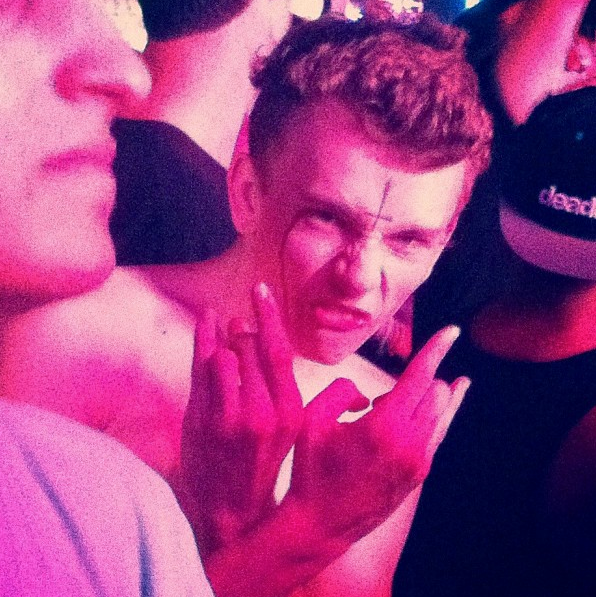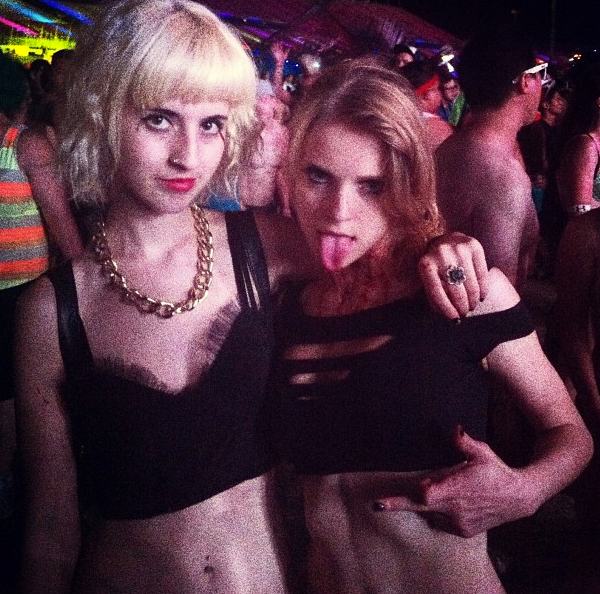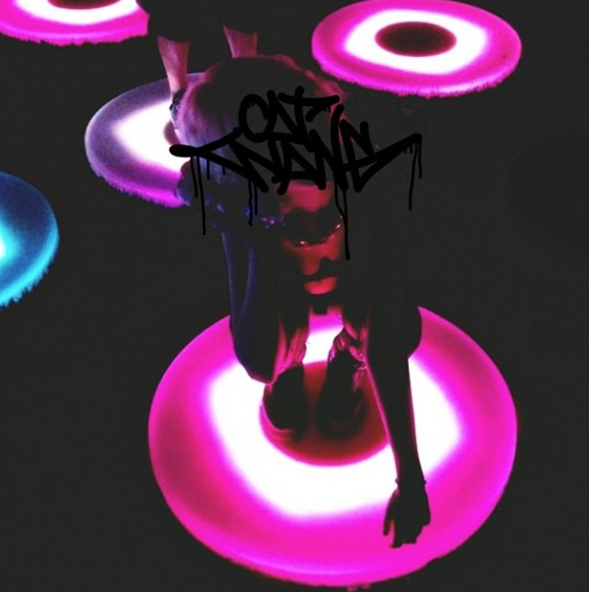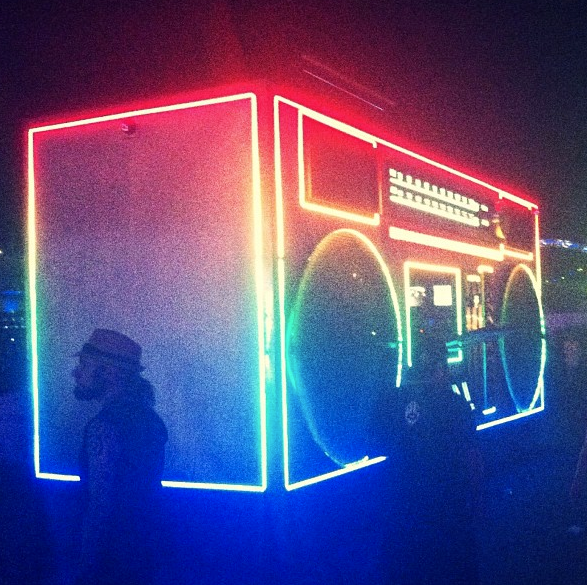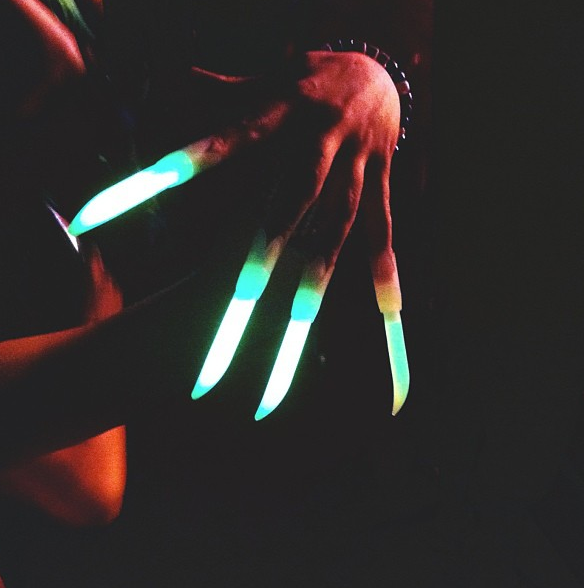 Follow me on instagram
So I think I'll post some old picture of me at EDC
2008- My first rave ever. I'm 15. Whoa.
2009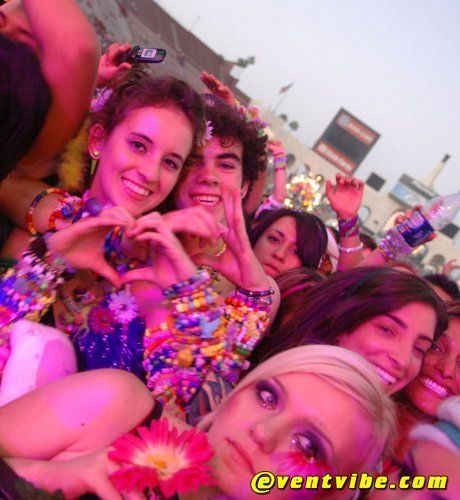 2010- Last year of EDC in LA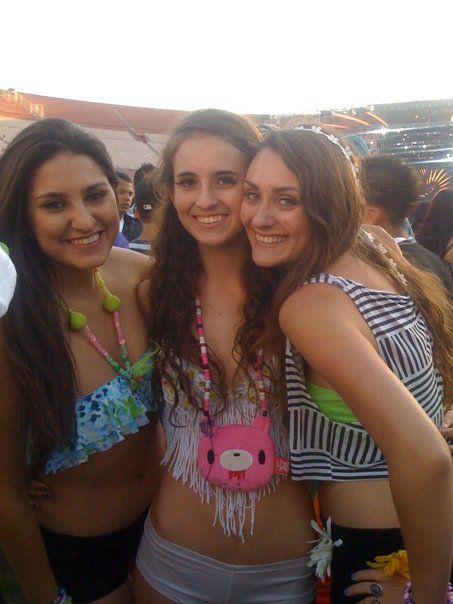 2011- First year of EDC in Vegas (I am the girl getting kissed, I know I look really different..)
On a musical note: I think I'm going to post some deadmau5, this is a side of me you will rarely see... My old rave side.